Clozapine efficacy is
worth the extra effort
CLINICAL STUDIES: TREATMENT-RESISTANT SCHIZOPHRENIA (Page 1 of 2)
Significant Improvement in Total BPRS Items
Patients taking Clozapine, USP experienced significant improvement in both Brief Psychiatric Rating Scale (BPRS) and Clinical Global Impression (CGI) Scale2
Kane et al Study:
6-week, 16-center study of 319 patients with schizophrenia
Patients who failed on 3 treatments over 5 years on 2 classes of antipsychotics, and on a haloperidol challenge
268 patients were randomly assigned to double-blind phase of the trial to Clozapine or chlorpromazine
Predetermined endpoints were significant improvement in the CGI Scale, and total BPRS score, and significant improvement in at least two of the following four core BPRS items:



| | | | |
| --- | --- | --- | --- |
| Conceptual Disorganization | | Hallucinatory Behavior | |
| Suspiciousness | | Unusual Thought Content | |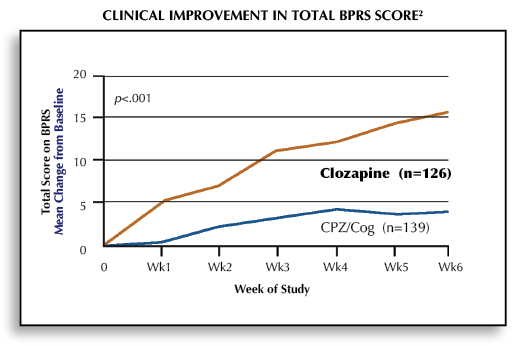 IMPORTANT SAFETY INFORMATION
WARNING: SEVERE NEUTROPENIA; ORTHOSTATIC HYPOTENSION, BRADYCARDIA, AND SYNCOPE; SEIZURE; MYOCARDITIS AND CARDIOMYOPATHY; INCREASED MORTALITY IN ELDERLY PATIENTS WITH DEMENTIA-RELATED PSYCHOSIS
Severe Neutropenia
Clozapine treatment has caused severe neutropenia, defined as an absolute neutrophil count (ANC) less than 500/μL. Severe neutropenia can lead to serious infection and death. Prior to initiating treatment with clozapine, a baseline ANC must be at least 1500/μL for the general population; and must be at least 1000/μL for patients with documented Benign Ethnic Neutropenia (BEN). During treatment, patients must have regular ANC monitoring. Advise patients to immediately report symptoms consistent with severe neutropenia or infection (e.g., fever, weakness, lethargy, or sore throat). Because of the risk of severe neutropenia, clozapine is available only through a restricted program under a Risk Evaluation Mitigation Strategy (REMS) called the Clozapine REMS Program.
Orthostatic Hypotension, Bradycardia, Syncope
Orthostatic hypotension, bradycardia, syncope, and cardiac arrest have occurred with clozapine treatment. The risk is highest during the initial titration period, particularly with rapid dose escalation. These reactions can occur with the first dose, with doses as low as 12.5 mg per day. Initiate treatment at 12.5 mg once or twice daily; titrate slowly; and use divided dosages. Use clozapine cautiously in patients with cardiovascular or cerebrovascular disease or conditions predisposing to hypotension (e.g., dehydration, use of antihypertensive medications).
Seizures
Seizures have occurred with clozapine treatment. The risk is dose-related. Initiate treatment at 12.5 mg, titrate gradually, and use divided dosing. Use caution when administering clozapine to patients with a history of seizures or other predisposing risk factors for seizure (CNS pathology, medications that lower the seizure threshold, alcohol abuse). Caution patients about engaging in any activity where sudden loss of consciousness could cause serious risk to themselves or others.
Myocarditis, Cardiomyopathy, and Mitral Valve Incompetence
Fatal myocarditis and cardiomyopathy have occurred with clozapine treatment. Discontinue clozapine and obtain a cardiac evaluation upon suspicion of these reactions. Generally, patients with clozapine-related myocarditis or cardiomyopathy should not be rechallenged with clozapine. Consider the possibility of myocarditis or cardiomyopathy if chest pain, tachycardia, palpitations, dyspnea, fever, flu-like symptoms, hypotension, or ECG changes occur.
Increased Mortality in Elderly Patients with Dementia-Related Psychosis
Elderly patients with dementia-related psychosis treated with antipsychotic drugs are at an increased risk of death. Clozapine is not approved for use in patients with dementia-related psychosis.
Clozapine tablets are contraindicated in: patients with a history of serious hypersensitivity to clozapine (e.g., photosensitivity,vasculitis, erythema multiforme, or Stevens-Johnson syndrome) or any other component of clozapine tablets.
Falls: Clozapine may cause somnolence, postural hypotension, motor and sensory instability, which may lead to falls and, consequently, fractures or other injuries. For patients with diseases, conditions, or medications that could exacerbate these effects, complete fall risk assessments when initiating antipsychotic treatment and recurrently for patients on long-term antipsychotic therapy.
Gastrointestinal Hypomotility with Severe Complications: Severe gastrointestinal adverse reactions have occurred with the use of clozapine, primarily due to its potent anticholinergic effects and resulting gastrointestinal hypomotility. In post marketing experience, reported effects range from constipation to paralytic ileus. Increased frequency of constipation and delayed diagnosis and treatment increased the risk of severe complications of gastrointestinal hypomotility, resulting in intestinal obstruction, fecal impaction, megacolon and intestinal ischemia or infarction. These reactions have resulted in hospitalization, surgery, and death. The risk of severe adverse reactions is further increased with anticholinergic medications (and other medications that decrease gastrointestinal peristalsis); therefore, concomitant use should be avoided when possible.
Eosinophilia: Eosinophilia, defined as a blood eosinophil count of greater than 700/μL, has occurred with clozapine treatment. Clozapine-related eosinophilia usually occurs during the first month of treatment and has been associated with myocarditis, pancreatitis, hepatitis, colitis and nephritis. If eosinophilia develops during clozapine treatment, promptly evaluate for signs and symptoms of systemic reactions, such as rash or other allergic symptoms, myocarditis, or other organ-specific disease associated with eosinophilia. If clozapine-related systemic disease is suspected, discontinue clozapine immediately.
QT Interval Prolongation: QT prolongation, Torsade de Pointes and other life-threatening ventricular arrhythmias, cardiac arrest, and sudden death have occurred with clozapine treatment. Exercise caution in patients with a history of QT prolongation, long QT syndrome, family history of long QT syndrome or sudden cardiac death, significant cardiac arrhythmia, recent myocardial infarction, uncompensated heart failure, treatment with other medications that cause QT prolongation, treatment with medications that inhibit the metabolism of clozapine, and electrolyte abnormalities. Electrolyte abnormalities such as hypokalemia or hypomagnesemia increase the risk of QT prolongation and therefore should be corrected before initiating treatment with clozapine. Exercise caution when clozapine is coadministered with other medications known to prolong the QT interval or inhibit metabolism of clozapine. Discontinue clozapine if the QTc interval exceeds 500 msec. If patients experience symptoms consistent with Torsades de Pointes or other arrhythmias, (e.g., syncope, presyncope, dizziness or palpitations), obtain a cardiac evaluation, and discontinue clozapine.
Metabolic Changes: Atypical antipsychotic drugs, including clozapine, have been associated with metabolic changes that may increase cardiovascular and cerebrovascular risk. These metabolic changes include hyperglycemia, dyslipidemia, and body weight gain and should be monitored at baseline and have periodic follow-up monitoring during treatment with clozapine.
Hyperglycemia and Diabetes Mellitus: Hyperglycemia, in some cases extreme and associated with ketoacidosis or hyperosmolar coma or death, has been reported in patients treated with atypical antipsychotics including clozapine. Patients diagnosed with diabetes mellitus who are started on atypical antipsychotics should be monitored regularly for worsening of glucose control. Patients with risk factors for diabetes mellitus (e.g., obesity, family history of diabetes) who are starting treatment with atypical antipsychotics including clozapine should have fasting blood glucose testing at the beginning of treatment and periodically during treatment.
Dyslipidemia: Undesirable alterations in lipids have occurred in patients treated with atypical antipsychotics, including clozapine. Clinical monitoring, including baseline and periodic follow-up lipid evaluations is recommended.
Weight Gain: Weight gain has occurred with the use of antipsychotics, including clozapine. Monitor weight during treatment with clozapine.
Neuroleptic Malignant Syndrome (NMS): A potentially fatal symptom complex referred to as NMS has been reported in patients receiving clozapine alone or in combination with lithium or other CNS-active medications. Immediately discontinue antipsychotic drugs as part of the management of NMS. If a patient requires antipsychotic drug therapy after recovery from NMS, the potential reintroduction of drug therapy should be carefully considered and monitored as NMS can recur.
Hepatotoxicity: Severe, life threatening, and in some cases fatal hepatotoxicity including hepatic failure, hepatic necrosis, and hepatitis have been reported in post marketing studies in patients treated with clozapine. Monitor for the appearance of signs and symptoms of hepatotoxicity such as fatigue, malaise, anorexia, nausea, jaundice, bilirubinemia, coagulopathy, and hepatic encephalopathy. Perform serum tests for liver injury and consider permanently discontinuing treatment if hepatitis or transaminase elevations combined with other systemic symptoms are due to clozapine.
Fever: During clozapine therapy, patients have experienced transient, clozapine-related fever. While this fever is generally benign and self-limited, it may necessitate discontinuing treatment. The fever can be associated with an increase or decrease in WBC count. Carefully evaluate patients with fever to rule out severe neutropenia or infection. Consider the possibility of NMS.
Pulmonary Embolism: Pulmonary embolism and deep-vein thrombosis have occurred in patients treated with clozapine tablets. Consider the possibility of pulmonary embolism in patients who present with deep-vein thrombosis, acute dyspnea, chest pain or other respiratory signs and symptoms.
Anticholinergic Toxicity: Treatment with clozapine can result in CNS and peripheral anticholinergic toxicity, especially at higher dosages, or in overdose situations. Use with caution in patients with a current diagnosis or prior history of constipation, urinary retention, clinically significant prostatic hypertrophy, or other conditions in which anticholinergic effects can lead to significant adverse reactions. When possible, avoid concomitant use, with other anticholinergic medications because the risk for anticholinergic toxicity or severe gastrointestinal adverse reactions is increased.
Interference with Cognitive and Motor Performance: Clozapine can cause sedation and impairment of cognitive and motor performance. Caution patients about operating hazardous machinery, including automobiles, while they are taking clozapine. These reactions may be dose-related and a reduction in dose may be required.
Tardive Dyskinesia (TD): TD has occurred in patients treated with antipsychotic drugs, including clozapine. Prescribe clozapine in a manner that is most likely to minimize the risk of developing TD. Use the lowest effective dose and the shortest duration necessary to control symptoms. Periodically assess the need for continued treatment. Consider discontinuing treatment if TD occurs.
Cerebrovascular Adverse Reactions: Elderly patients with dementia-related psychosis treated with some atypical antipsychotics had an increased risk of cerebrovascular adverse reactions (e.g., stroke, transient ischemic attack), including fatalities. Clozapine should be used with caution in patients with risk factors for cerebrovascular adverse reactions.
Recurrence of Psychosis and Cholinergic Rebound after Abrupt Discontinuation of Clozapine: If abrupt discontinuation of clozapine is necessary (because of severe neutropenia or another medical condition), monitor carefully for the recurrence of psychotic symptoms and adverse reactions related to cholinergic rebound, such as profuse sweating, headache, nausea, vomiting and diarrhea.
Most common adverse reactions (≥5%) were: CNS reactions (sedation, dizziness/vertigo, headache, and tremor); cardiovascular reactions (tachycardia, hypotension, and syncope); autonomic nervous system reactions (hypersalivation, sweating, dry mouth, and visual disturbances); gastrointestinal reactions (constipation and nausea); and fever.
CYP1A2 Inhibitors: Concomitant use of clozapine tablets and CYP1A2 inhibitors can increase plasma levels of clozapine, potentially resulting in adverse reactions. Reduce the clozapine tablets dose to one-third of the original dose when clozapine tablets are coadministered with strong CYP1A2 inhibitors (e.g., fluvoxamine, ciprofloxacin, or enoxacin). The clozapine tablets dose should be increased to the original dose when coadministration of strong CYP1A2 inhibitors is discontinued.
CYP2D6 and CYP3A4 Inhibitors: Concomitant treatment with clozapine tablets and CYP2D6 or CYP3A4 inhibitors (e.g., cimetidine, escitalopram, erythromycin, paroxetine, bupropion, fluoxetine, quinidine, duloxetine, terbinafine, or sertraline) can increase clozapine levels and lead to adverse reactions. Use caution and monitor patients closely when using such inhibitors. Consider reducing the clozapine tablets dose.
CYP1A2 and CYP3A4 Inducers: Concomitant treatment with drugs that induce CYP1A2 or CYP3A4 can decrease the plasma concentration of clozapine, resulting in decreased effectiveness of clozapine tablets. Tobacco smoke is a moderate inducer of CYP1A2. Strong CYP3A4 inducers include carbamazepine, phenytoin, St. John's wort, and rifampin. It may be necessary to increase the clozapine tablets dose if used concomitantly with inducers of these enzymes. However, concomitant use of clozapine tablets and strong CYP3A4 inducers is not recommended. Consider reducing the clozapine tablets dosage when discontinuing coadministered enzyme inducers; because discontinuation of inducers can result in increased clozapine plasma levels and an increased risk of adverse reactions.
Anticholinergic Drugs: Concomitant treatment with clozapine and other drugs with anticholinergic activity (e.g., benztropine, cyclobenzaprine, diphenhydramine) can increase the risk for anticholinergic toxicity and severe gastrointestinal adverse reactions related to hypomotility. Avoid concomitant use of clozapine with anticholinergic drugs when possible.
Drugs that Cause QT Interval Prolongation: Use caution when administering concomitant medications that prolong the QT interval or inhibit the metabolism of clozapine such as: specific antipsychotics (e.g., ziprasidone, iloperidone, chlorpromazine, thioridazine, mesoridazine, droperidol, and pimozide), specific antibiotics (e.g., erythromycin, gatifloxacin, moxifloxacin, sparfloxacin), Class 1A antiarrhythmics (e.g., quinidine, procainamide) or Class III antiarrhythmics (e.g., amiodarone, sotalol), and others (e.g., pentamidine, levomethadyl acetate, methadone, halofantrine, mefloquine, dolasetron mesylate, probucol or tacrolimus).
Pregnancy: Clozapine should be used during pregnancy only if the potential benefit justifies the potential risk to the fetus. Neonates exposed to antipsychotic drugs during the third trimester of pregnancy are at risk for extrapyramidal and/or withdrawal symptoms following delivery. Monitor neonates for symptoms of agitation, hypertonia, hypotonia, tremor, somnolence, respiratory distress, and feeding difficulties. The severity of complications can vary from self-limited symptoms to some neonates requiring intensive care unit support and prolonged hospitalization.
Nursing Mothers: Clozapine is present in human milk. Because of the potential for serious adverse reactions in nursing infants from clozapine, a decision should be made whether to discontinue nursing or to discontinue the drug, taking into account the importance of the drug to the mother.
Renal or Hepatic Impairment: Dose reduction of clozapine may be necessary in patients with significant impairment of renal or hepatic function.
Phenylketonuric patients (PKU): PKU patients should be informed that clozapine, USP Orally Disintegrating Tablets contain phenylalanine (a component of aspartame).
Prescribers, pharmacies and patients must be enrolled with the Clozapine REMS Program. Further information is available at www.clozapinerems.com or 1-844-267-8678.
For Print Pieces: Please read the accompanying full Prescribing Information including Boxed Warning.
For Digital Pieces: please read the full Prescribing Information, including Boxed Warning.